Bikram's beginning yoga class is a demanding series of 26 postures (asanas) and two breathing exercises (pranayamas), which is suitable for all ages and levels of ability. Each posture stretches and strengthens specific muscles, ligaments and joints needed for the next posture. The Bikram method stimulates the organs, glands and nerves, moving fresh oxygenated blood to 100 percent of the body, restoring all systems to a healthy working order.
Bikram scientifically designed this 90 minute program to deliver total health through the balancing and strengthening of every system in the body in order to prevent illness, injury and limit the effects of aging. In addition, the series of postures combine skills of concentration, patience, determination and self-control, which lead to increased mental clarity and reduced stress.
A regular practice of Bikram Yoga also improves body posture and spine alignment. It relieves back pains and headaches; strengthens muscles; reduces symptoms of chronic diseases; gives better self confidence; improves body image; improves flexibility, balance and strength; gives a general feeling of wellness and peace.
Yogiraj Bikram Choudhury is the founder of the worldwide Yoga College of India™. Born in Calcutta in 1946, Bikram began Yoga at the age of four with India's most-renowned physical culturist at that time, Bishnu Ghosh, the younger brother of Paramahansa Yogananda (Author of the most popular book on Yoga, The Autobiography of a Yogi, and founder of the Self-Realization Fellowship in Los Angeles).
Bikram pra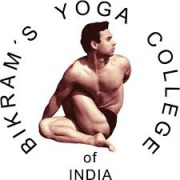 cticed Yoga at least four to six hours every day at Ghosh's College of Physical Education in Calcutta. At the age of thirteen, he won the National India Yoga Championship. He was undefeated for the following three years and retired as the undisputed All-India National Yoga Champion. At 14, Swami Shivananda declared him "Yogi Raj" (King of the Yogis).
At seventeen, an injury to his knee during a weight-lifting accident brought the prediction from leading European doctors that he would never walk again. Not accepting their pronouncement, he had himself carried back to Bishnu Ghosh's school, for he knew that if anyone could help to heal his knee, it was his teacher. Six months later, his knee had totally recovered. Ghosh was a celebrated physical therapist and the first to scientifically document Yoga's ability to cure chronic physical ailments and heal the body.
Bikram was asked by Ghosh to start several Yoga schools in India. The schools were so successful that at Bishnu's request Bikram traveled to Japan and opened two more. He has since brought his curative methods of Yoga therapy around the world.